How to Change the Font on Your Facebook Posts and Messages?

Facebook is the most widely used social media platform that connects everyone. To keep in touch with your friend's circle, you need to post daily on your timeline. Tired of using the same front every time, it's essential to consider a perfect online tool that is super-fast and easy to use.
Do you know why most Facebook posts contain writing of the same character style? Simply because the change font feature is not available on this page or other social media platforms. But to set yourself apart from the rest, you seek to make your writing different and more engaging. How can you do it? Consider Facebook font generator online tool.
New Styles of Facebook Posts With Font Generator:
Facebook font generator tool offers 68+ possible writing styles. It would help if you had proper guidance to use this tool, so you never face hassle. It's an online font generator tool that can convert a simple text into an attractive one. Meanwhile, you can correct anything, Profile name, post messages, bio text as well as comments. So the result would be unique, prominent, and stylish Facebook fonts that attract everyone.
This online tool gives you the possibility of transforming the writing of your Facebook publications by choosing from 68+ possible styles, for instance, double struck, bubbles, square box, Old English, bold sans, small caps, strikethrough, underline, bold, medieval, cursive, round squares, mirror, creepy, squiggle, superscript, italic and many more.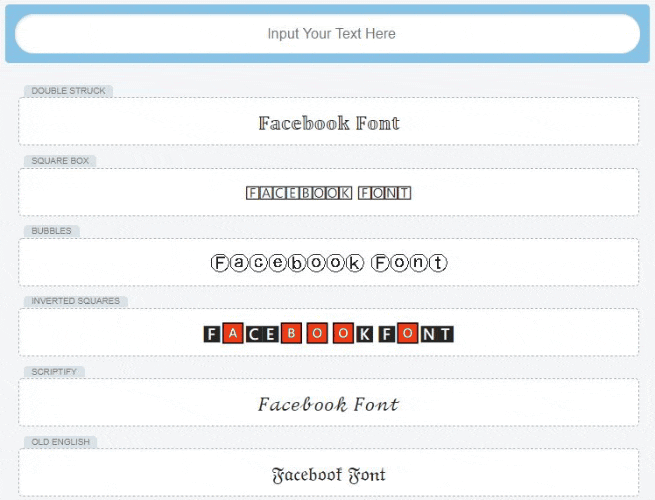 Simple Step to Use Facebook Font Tool:
1. Go to this Facebook font generator page
2. Then write your text in the empty box at the top of the page.
3. After that, you will get all the front text.
4. Choose the one that you like most.
5. Log into your Facebook account.
6. In the end, paste the text in the "create a post" field on the Facebook timeline.
Wrapping up:
Sometimes, you feel bored with your existing text and want to bring creativity to your Facebook front because a simple one is unattractive. Don't worry at all; with Made in Text, you will convert plain text into fancy font letters within a shortage of time; if you don't know how to use it, then check out the above steps. In short, it is a perfect way to bring creativity to your post as well as in messages. Hope this tool will be helpful for you, please let us know in comments.